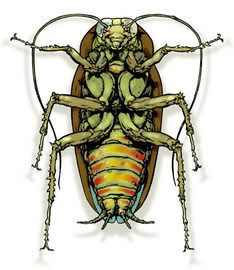 Writer: Simon Oliver
Artist: Tony Moore
Cover: Philip Bond

Officially the Vertigo imprint has been running for 13 years and we've had some fantastic comics including Sandman, Transmetropolitan and Preacher. Still running, we have Y the Last man and Fables, but recently Vertigo launched a new set of titles, DMZ, American Virgin, Testament and most importantly to this blog entry, The Exterminators.

It's an intelligently dark and very funny story about the dysfunctional bug killers of Bug-Bee-Gone Co. and the filth they're up against. We're not talking regular filth here, sure we have the usual finds of rabid rats and racoons, but here we meet the mother of all pests.
The cockroach, and they're not what you expect.

We've long thought that the cockroach will be last thing left on earth when we eventually suffer that nuclear war, but these cockroaches aren't the kind to sit and wait for this to eventually happen. These guys are proactive bugs, adapting to the methods we use in extermination, mutating from the use of a new chemical to a new height of survival, they're working together.
And now they're coming after us.

But to say 'The Exterminators' is just about pest control, would be like saying 'Watchmen' was just about Superheroes.

As with every successful story there is so much more going on in its underbelly, we have an ancient mystery, shady pasts, a sacred scarab and an ominous box yet to be opened. More importantly it's being handled in an effective way, giving us plenty of new information and twists each issue to make sure we come back for more.
It's fantastically off the wall, reaching new heights of grossness every couple of issues. With us so far witnessing a man rip the heart from a rat in pure rage, maggots feeding on a bed tied OAP, and most importantly, exploding people, all drawn with the fantastic pencils of Tony Moore.

We've just passed the first arc and we have been set up with a great premise, which is already expanding well in issue 6, with the introduction of the most bizarre library/brothel in history.
And if that doesn't draw at least some enthusiasm, nothing will.

So for a preview of the first few pages follow the link
http://popcultureshock.com/first-looks.php?id=5339&p=1
And if you like it, make sure to pick up the singles, Vertigo titles always need single support in their beginnings.
Or at least try the first trade collecting the first 5 issues, Bug Brothers.
On sale the beginning of August

Who needs a mark scheme.
Just an honest opinion that whilst this may be one of the most vulgar comics I've read under the Vertigo imprint in a while, it's also one of the freshest, funniest and well written comics that I've had the pleasure to read.

It's a bug's world. We just live in it.