Not the Misfits song
Not a piece of Science Fiction
And definitely not those teenagers from Dawson's Creek/OC/One Tree Hill
It's about the essentials, youth, rebellion, free expression and anti-commercialist anarchy.
Any interest?
We want, we need it, we'll take it, baby
There are a number of comics out there that readers consider to be perfect books to introduce a girlfriend or non superhero fan. Among them we've got Fables (Possibly the most consistently intelligent and entertaining title Vertigo is publishing, and as Sid pointed out a number of months back, smells great), Scott Pilgrim (The best humour comic of the moment, containing so many imaginative pop culture references along with an expressive yet simple original sudo manga style), and to this list I think that Teenagers From Mars is a natural addition.
It's not that these comics contain some miraculous ingredient missing in other titles; they just show that comics can be original, intelligent, and down right funny but also that the world of comics doesn't stop with the Superhero genre.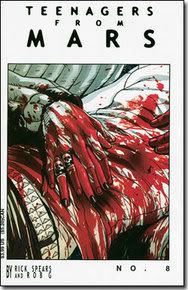 The story concerns the town of Mars, Macon Blair is an 18 year old slacker with punk sensibilities in his blood, ending his work at the local Mallmart with a black eye from his boss, he takes on the town with the help of Madison and his almost sidekick Max. Leaving the tag of the then imaginary CBLA ( Comic Book Liberation Army) he unwittingly starts an uprising in the town, but he has his own revolution in mind to answer to this. He's going to stop at nothing to get back his comic so that it can be finished and he can carry on with the girl Madison in peace. The character of Macon is so fleshed out that his story is almost guarantied to hook and pull you in.
And there's a group of younger teens, including the character of Max, who are grave robbing to find bits to sell to fund their purchase of the rare comic 'Beyond Adventure #75', this is far from that early Simpson's episode. But beyond these two major points telling you anymore about the book would ruin your reading, so rather than revealing more certain plot points I thought I would compile a list of things that the comics includes.
Here goes
Rebellion
Zombie House Party
Grave Robbing
Punks
Violence
Indecent exposure
Piercings
The Comic Book Liberation Army
Fast Cars
Over Bearing Parents
True Teenage Language and Expressive Art – As simple as this sounds, they work fantastically together. The characters aren't over wordy and true emotion and feeling is shown brilliantly through the art, leaving us with panels where the art is allowed to breath. Rick Spears and Rob G are a pair of fantastic collaborators.
Rob G's art really does lift the book to great heights, often fitting 8 and even 9 panels to a page in a similar style to Fell, but with his pen and brush style showing so much more detail in the panels. Looking back through you can read the titles of the comics and videos on the shelves, along with t-shirt designs that most pop culture fans will recognise ( thankfully no Franki Say Relax to be seen though).
He's given room to really show himself on a number of full pages too, giving us crowds and intimate scenes which really do show off how perfect his style was. Another important note is that he often blurs the background to draw attention to an aspect of a panel, sure it has been done before, but here it looks natural, often working to give a very real depiction of how we often look at real life scenes.
While I'm talking about style I think it's important to include the fact that thought balloons are only used twice in the whole story. In the same panel no less, this comic doesn't want you to follow inner thoughts, you're there to follow and judge the characters on their actions. It's all about what you do people, not what you contemplate doing.
Teenagers from Mars almost didn't happen, due to bad timing this title was almost destroyed under the weight of a bad shipping schedule after 9/11, thankfully through some very good reviews word spread and the 8 issues sold as well as any true indie comic book can.
It's film like in its structure, not a bad aspect as this comic really does present its ideas with imagination and intelligence with a climaxing story, its hard to see it as separate comics now, when reading through there are no end of issue bangs, the story works through them, infact if they were never published in the back along with a couple of extras you would swear it was an original graphic novel. It's a complete story, no other arcs or issues needed to read here.
If you read it and enjoy it, just hold onto the hope that they get around to producing the 2 and 3 parts that Rick Spears has mentioned off hand ever since it was first published.
Give it a chance, you almost certainly won't regret it, and if you do, well there's always a comments section for you to give your 2 cents in, or next time I'm in the shop.
So you get in fights a lot?
Yeah.
You always get your ass kicked?
Yeah.
Aren't you ever afraid?
No.